OFFENSO CERTIFIED SECURITY ANALYST
Become a Certified Security Analyst and protect the world's digital future!
Why you should choose our course
OCSA?
Cyber security is crucial in protecting computer systems, networks, and digital information from theft, damage, or unauthorized access. Offenso Certified Security Analyst course offers comprehensive training on fundamental principles and techniques of cyber security. Covering the latest trends and methodologies, including PCI DSS, Cyber Kill Chain, and vulnerability identification, this course prepares individuals to tackle the most pressing cyber security issues.
Explore our Course
Curriculum
Tools we cover in this course
What makes our courses a
superior choice

for learning?
Join the most experienced trainers at Offenso Hackers Academy in Kochi to build a career in cyber security. Our well-planned curriculum, taught by professional trainers, provides students with the expertise to become Ethical Hackers and safeguard the online environment. The Offenso Certified Security Analyst course is one of our prestigious offerings, providing advanced knowledge,tools to analyze and protect against cyber threats & vulnerabilities. Become an expert security analyst in the field and sign up today for a better and safer cyber world.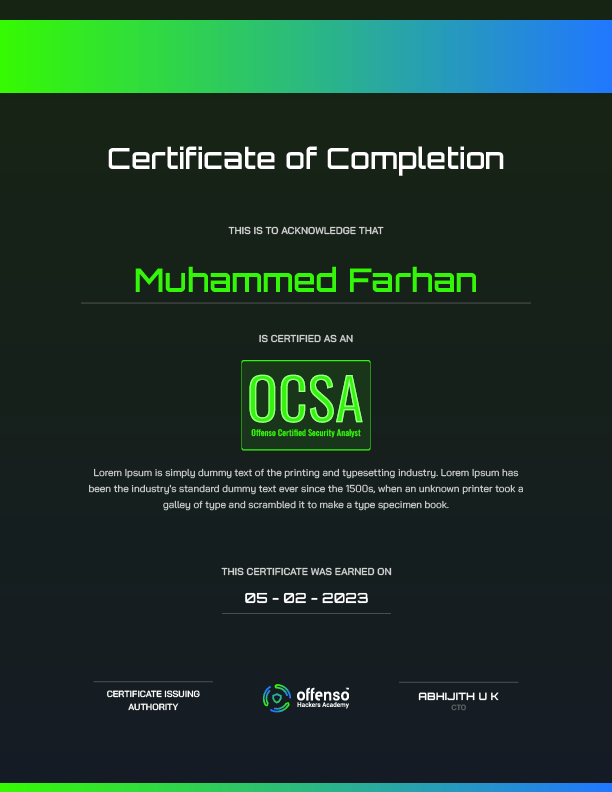 Stay ahead of the game with our Cyber Security Courses.
Let
our students be our voice

: hear their stories, see our impact.
Together, we can make a difference and give our students the platform they deserve. Take action now and be a part of this important movement!
"I recently completed a course at the Offenso Academy and I am extremely satisfied with the education I received. The instructors were knowledgeable, and the course material was comprehensive and up-to-date. The Academy's emphasis on practical, real-world scenarios provided a unique and valuable learning experience that I would highly recommend to anyone interested in the field."
"I highly recommend the cyber security academy to anyone looking to pursue a career in cyber security. The program provided me with a strong foundation in both theory and practice, which allowed me to gain a deep understanding of the subject matter thanks to the cyber security academy, I feel confident in my ability to succeed in the field of cyber security and I am excited to apply what I have learned in my career."
Learn Cyber Security
From The Best
Learn Cyber security from best in the class trainers from Offenso Hackers Academy in Kochi, With experienced trainers and well planned curriculum Offenso is set on a course to conquer the world of cyber security training providing the society with expertized ethical hackers to secure your online environment. Offenso Certified Security Analyst is one of our prestigious courses making you enable to analyze the cyber world and to safe guard the ecosystem from cyber threats and from vulnerabilities.
With Offenso Certified Security Analyst course, you get to learn the advanced and updated cyber security processes and tools that enable you to become an expert as a security analyst in the field Join our course to become a Offenso Certified Security Analyst for a better and safer cyber world.
Frequently Asked Questions
Find answers to your questions about our OCSA course, designed for aspired learners to gain cyber security expertise and practical skills.
Arm yourself with cybersecurity skills and knowledge.