Get thriving career transformation with our online Cybersecurity Course in Chennai
Take the top online cybersecurity course in Chennai to advance your profession.
Ways Offenso cybersecurity course will
levitate your
Future

?
Study Online Cybersecurity Course In Chennai
Join our Online Cybersecurity course in Chennai at Offenso Hackers Academy. Our program offers an engaging and immersive learning experience, equipping you with the skills to become a proficient cyber defender and contribute effectively in the digital domain. We also offer full support for placements and internships, ensuring your success.
Rule the cyber world with Our latest cybersecurity Course in Chennai
Our team of knowledgeable cybersecurity experts will lead you at all stages. Create enduring connections with business leaders. Numerous networking chances are offered by our course, which can assist you in deciding on your future professional route.
Enhance Your Learning Experience with Professional Advice
In our online cybersecurity course in Chennai, advance your studies in the area of cybersecurity with the essential advice of industry leaders. You will gain a thorough understanding of cybersecurity ideas, methods, and procedures via our program. We make sure you acquire real-world information and useful insights by incorporating expert assistance, which will help you succeed in this dynamic and important industry. Join us to improve your education and lay a solid foundation in cybersecurity.
Exceptional learning at cybersecurity course in Chennai
"Our dedicated team is committed to providing exceptional support to students enrolled in our online cybersecurity course in Chennai. We offer personalized guidance and mentorship throughout the program, ensuring that students receive the assistance they need to excel. Our instructors bring extensive industry experience, offering practical insights and real-world knowledge. We also provide resources, regular assessments, and a collaborative learning environment to help students build a strong foundation in cybersecurity. Join us, and let our team guide you towards a successful cybersecurity career."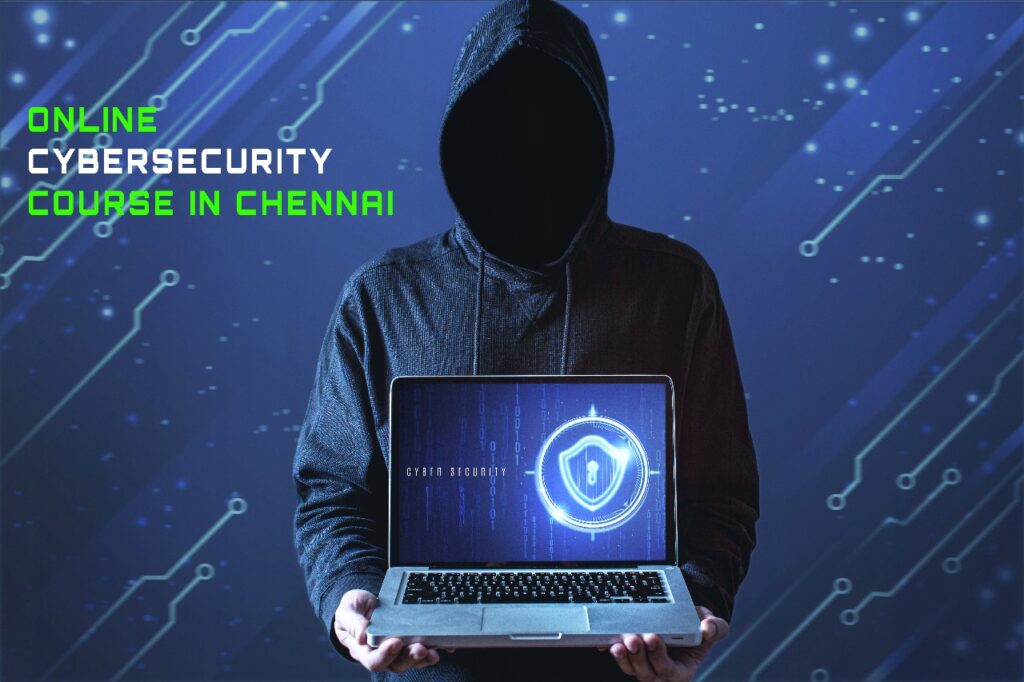 Mastering Cybersecurity Online : Your Path to Success with the Best Online Cyber Security Course in Chennai
Chennai is a rapidly growing state with desire and aspiration in
cyber security
We aim to inspire students in our online cybersecurity course in Chennai by offering a transformative learning experience. Our comprehensive curriculum, expert instructors, and practical approach equip students with the skills and confidence needed to excel in the dynamic field of cybersecurity, opening doors to promising career opportunities.
Enriching Workshops: Reinvent your skillset, ultimately
Step into the World of Ethical Hacking
Introduction to RedTeaming Redteam ≠ Pentest
Launching Webinar Certified Junior Ethical Hacker
Frequently Asked Questions
Searching for answers to your cybersecurity queries? For frequently asked questions regarding our online, offline, and hybrid classes, visit our FAQ area.
Find Out
more about Best Online Cybersecurity Course in Chennai
Waiting for a perfect course for cybersecurity? wait no more, we are here. We strive to ignite the passion for cybersecurity within students, who chose our online cybersecurity course in Chennai. Our program's dynamic curriculum, expert guidance, and practical approach inspire students to embark on a journey of knowledge and skill-building, fostering their growth in the field of cybersecurity.
Listen
to their fruitful experiences

with us.
Align with us to create a secure future for you. It will open you infinite opportunities…
Offenso Academy has been an exceptional learning experience. The instructors are not only knowledgeable but also highly supportive. The practical, hands-on labs have been invaluable to improve my cybersecurity skills. I feel well-prepared to tackle real-world cyber threats and would highly recommend this academy to anyone looking to excel in this field.
The chennai Ethical Hacking course was a turning point for me. A strong basis in ethical hacking was given by the institute's well-organized curriculum and practical training methods. The professors helped us understand difficult ideas and were always accessible to answer questions and offer encouragement. I was able to properly use my abilities thanks to the hands-on activities and actual situations. The institute also hosted industry events and guest speakers, providing beneficial networking opportunities
The chennai Ethical Hacking course was a turning point for me. A strong basis in ethical hacking was given by the institute's well-organized curriculum and practical training methods. The professors helped us understand difficult ideas and were always accessible to answer questions and offer encouragement. I was able to properly use my abilities thanks to the hands-on activities and actual situations. The institute also hosted industry events and guest speakers, providing beneficial networking opportunities
Arm yourself with knowledge and skills in cybersecurity